For the past six Hudson Hot Air Affair celebrations, SCEC has sponsored the "Living with Dementia" balloon through our FirstCall Medical Monitoring service. Over the past couple years, we have developed a partnership with the St. Croix Valley Dementia Friendly Communities Coalition, whose volunteers assist with events throughout the weekend.
This year, Pilot Terry Dorshorst (in basket) and his wife Barb (background) of West Salem got creative with the theme "S'mores and More, Balloons Galore" and earned first place for the float in the Torchlight Parade held Friday, Feb. 4.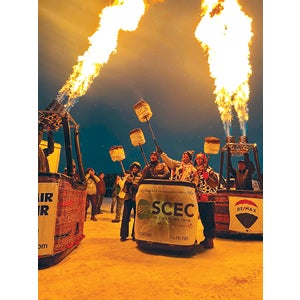 In the photo above, (front, from left) Kim Bauer, Dementia Care Specialist (DCS) at Aging and Disability Resource Center (ADRC) of St. Croix County; Amy Luther, DCS at ADRC of Pierce County and Vicki Bolton, member of the Coalition; and (on either side of basket) SCEC Communications & Events Coordinator Michele DeLong and SCEC Member Services Representative Todd Johnson joined Terry at the Field of Fire held on the grounds of EP Rock Elementary School on that Saturday evening.
The next morning, the crew was at it again, this time in the SCEC/Touchstone Energy Hot Air Balloon basket on the field for an early morning TV appearance.