Here's the official announcement …
The 85th Annual Meeting of the members of St. Croix Electric Cooperative will be held at the cooperative headquarters, 1925 Ridgeway Street, Village of Hammond, St. Croix County, Wisconsin, on Thursday, May 5,
2022, with the Call to Order at 5:30 p.m., for the purpose of electing directors, passing upon reports covering the previous fiscal year and transacting such other business as may come before the meeting.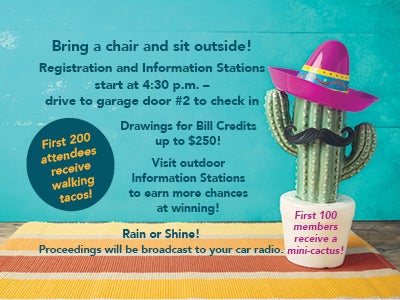 … BUT the FESTIVITIES will begin at 4:30 p.m.!
Although St. Croix County is far from the origin of the holiday Cinco De Mayo, which celebrates the date of the Mexican Army's May 5, 1862, victory over France at the Battle of the Puebla during the Franco-Mexican War, members that day may find some of the amenities give a nod to it.­­
This year's meeting will be held rain-or-shine "Modified Drive-In Style": After driving to garage door #2 to register and receive their mini-cactus (while supplies last) and goodie bag, members will be directed to parking spots in the south parking lot. BUT this year – unlike the past two – they are encouraged to leave their vehicles to enjoy a complimentary walking taco (while supplies last) and explore "Information Stations" where they can learn more about the products, programs and services their co-op offers.
… And instead of being confined to vehicles to listen to the meeting through FM radio (like the past two), those who bring their own chairs can take seats beside their vehicle, toward the outdoor stage or even on the lawn for the brief business meeting. The meeting itself won't contain many surprises: The 2021 Annual Report, mailed the beginning of April, contains in print all the pertinent information and the three Director races are uncontested with only the incumbents – District 1's Neil Plourde, District 4's Paul Nyhus and District 7's Francis Klatt – as candidates.
Immediately following adjournment of the meeting, drawings will be held for Bill Credits up to $250 – members must be present to win! Each registered member is entered into the drawing with additional chances offered for bringing the mailed annual report, visiting Information Stations and other fun opportunities.