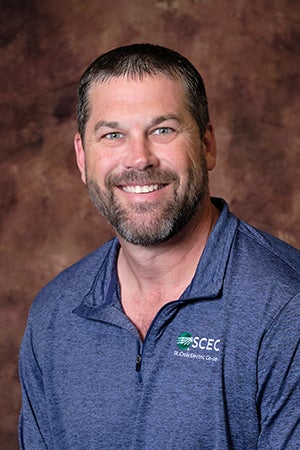 We do our best to avoid power outages, but sometimes Mother Nature has other plans – like on Friday, Sept. 17 when a storm with high winds swept through the midsection of our service territory … and sometimes accidents happen – like when a collision pushed a vehicle into one of our poles in the Town of Pleasant Valley early in September.­­
"With high winds from the September 17th storm causing trees to fall through the lines and poles to break, we had a busy 30 hours restoring power," Operations Manager Rob Dooley reports. "With the amount of damage and the strength of the storm, I feel we were fortunate to keep most outage times under the 24-hour mark."
On that Friday, SCEC crews and contractors were out in the field beginning with the first outage reported at 3:30 a.m. well into the night and then again out in the field Saturday.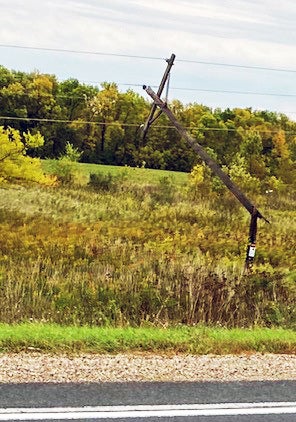 Damage included five snapped poles – three on Hwy. 46 south of Deer Park that stayed live even after going down – up to 10 lines torn off poles or homes and several trees that went through lines. We also received several calls with trees and lines on the roads that took precedence or public safety reason over other calls, adding to some of the extra outage time. 
We work year-round – through right-of-way clearing and spraying – to ensure power lines in our service territory stand little risk of being damaged by trees, branches or other types of vegetation. We also contract for pole inspections and for inspections and cleaning of ground-mounted transformers on a five-year schedule. Our line crews regularly perform "line patrol" looking for trouble areas and/or damaged equipment.
Along with maintenance, better technology has been making our electricity more reliable every year. In the last few years, less expensive and more sophisticated meters and monitoring systems can detect outages faster than ever. We're far more automated than we were a decade ago. We don't have to wait for someone to call and say they're out of power. Now the member's electric meter lets the co-op know.
Our current GPS (Global Positioning System) field data collection project will help even more by digitally tying together all the equipment on our lines, meaning we will be able to respond even more efficiently and safely to power outages … and, in turn, we will be able to communicate even more effectively with you about them.