To celebrate National Co-op Month in October 2019, SCEC offered members the chance to enter a drawing to take home (or to the road) the co-op's Bolt EV, the first affordable all-electric car to offer an EPA-estimated 238 miles of range on a single charge.
The four members drawn in 2019 – Chad Denucci (New Richmond/Town of Emerald), Becky Kerr (Wilson/Town of Cady), Bruce Maher (Hudson/Town of St. Joseph) and Charlotte Croes (Deer Park/Town of Stanton) – drove the car over 530 miles around St. Croix County and across the St. Croix River.
Chad's photo and story appeared in the October issue of Energy Lifestyles Magazine. Below are stories from the other three DrivEV Weekend winners (all can be found online as well):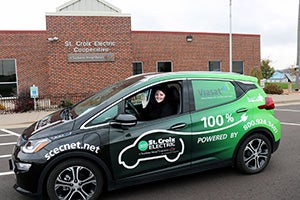 Becky Kerr was drawn to take the car the second weekend in October but due to a non-functioning heater, she drove it over the first weekend in November instead. In her 114-mile weekend, Becky took the car to the SCC Drama Craft/Vendor Fair held at St. Croix Central Elementary School in Roberts, shopping in Hudson and on other errands.
"It had more get up and go than I expected," Becky said. "Thanks for the experience of driving an electric car! I had fun!"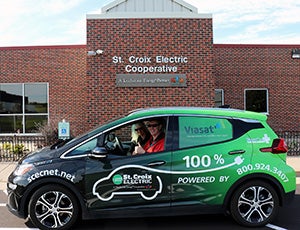 Bruce Maher and his wife Jean drove the car about 170 miles, visiting Marine-on-St. Croix and using it for several errands/grocery runs. They stopped at the Chevy dealership in Hudson hoping to plug in, but the charging station was out of service due to construction.
"I was surprised at the 'heft' of the Bolt," Bruce said.
Charlotte Croes documented most of the stops she made in the last weekend of October by taking photos of the Bolt at her destinations and sharing them on Facebook.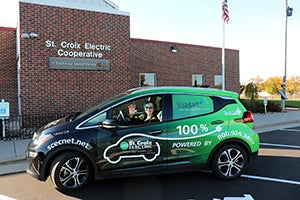 She drove 109 miles, visiting The Laurel Supper Club (one of several restaurants on SCEC lines and owned by SCEC member Roberta Little ), St. Luke's Lutheran Church Harvest Dinner; New Richmond Family Fresh Market; Deer Park Library; St. Paul Lutheran Church in Deer Park, Amery Golden Age Manor and Willow Ridge Nursing Home and Dick's Market. She also gave a ride to a neighbor who had entered the contest but didn't win and went to daughter Cindy Cores' home (also on SCEC lines) before returning the EV to Hammond on Sunday.
"I didn't realize it could be plugged into a normal outlet," Charlotte said. "It drove very nice and smooth and quiet. The defrost worked fast on Sunday morning, and I appreciated the heated steering wheel."