The four winners of the DrivEV Weekend drawing held to celebrate National Cooperative Month in October 2018 put a total of 545 miles on St. Croix Electric Cooperative's Bolt EV, a fully electric vehicle that arrived at the co-op in May.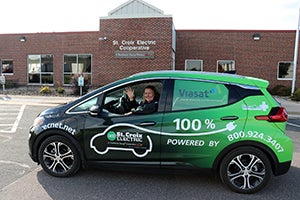 Although she put on the least miles over her weekend (maybe because she lives only five miles from the co-op office), Cindy Schultz may have gotten the "moving billboard" the most visibility throughout St. Croix County: Over the second weekend in October, she drove it to a St. Croix Central High School football game, to the St. Croix County 4-H Banquet, to her job at O'Connell Funeral Home in Hudson (and to eat and shop) and to Roberts Congregational UCC. She also earned the distinction of being the first to drive in the snow.
"It was fun and easy to drive – even in snow," Cindy said. "I learned a lot about electric cars by reading the information provided. Thanks for the opportunity!"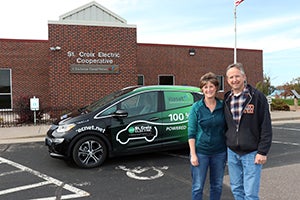 The next weekend Pat and Lisa Earley enjoyed more autumn-like weather, going for a "leaf drive" to Taylors Falls, Minn. along with "buzzing around" their hometown of New Richmond.
"I was surprised by the power/pick up of the vehicle," Pat said. "An EV would actually work fine for us, as we both work locally and would get by with a weekly charging. The only drawback would be remembering to buy a lottery ticket because one would never be at a gas station!"
The last weekend in October, Amanda and Alan Linehan also crossed the border with the EV, traveling from their Town of Hudson home to Woodbury, Minn.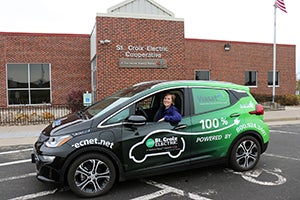 "We were surprised at how 'zippy' the car was," Amanda said. "It accelerates quickly, rides smoothly and had more room than expected. It was very fun to drive!"
- Appears in December 2018 issue of Energy Lifestyles Magazine
(Dale Long, the winner of the first DrivEV Weekend, was featured in the November issue of Energy Lifestyles Magazine.)
Read more DrivEV Weekend stories