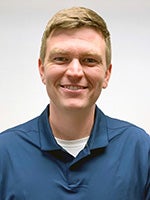 Are you looking to lower your monthly heating and cooling costs? Are you tired of fluctuating fuel prices? Heat pumps are one of the most efficient ways to both heat your home in the winter and cool it in the summer. No matter the size or type of building, there is a heat pump that will fit your needs. On top of high efficiencies, heat pumps run on electricity – a safe and reliable fuel that does not have the price fluctuations of natural gas or propane.
Gas fired heating options create emissions by burning fossil fuels to produce the energy to heat homes and businesses. Heat pumps cut greenhouse gas emissions by taking heat from the air or the ground.
There are three types of heat pumps that offer a variety of different benefits and meet a wide range of our members' needs: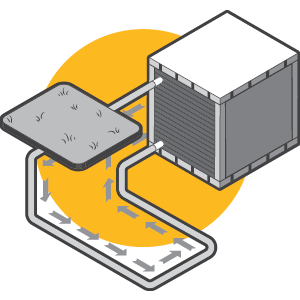 Geothermal Heat Pumps offer efficiencies 3-5 times higher than other conventional heating systems. Geothermal heat pump systems transfer energy through fluid, circulated underground to transfer heat either into or out of a building. Utilizing the earth to provide this energy leads to 300% to 400% efficiency. This means that for every unit of electricity the system uses, it provides three to four units of heating energy. Geothermal heat pumps perform well in extreme climates and are able to meet our heating and cooling needs living in Wisconsin. SCEC's office is conditioned using a geothermal system. Pipes buried underground, on the north side of our building, feed 12 units installed throughout the office. This geothermal system provides us with reliable and efficient heating and cooling throughout the entire year.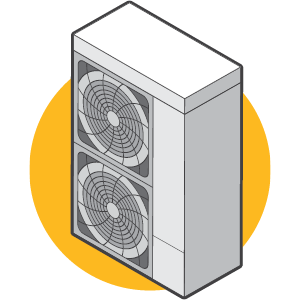 Air Source Heat Pumps (ASHP) are the most used heat pumps. ASHP move heat rather than converting it from a fuel like combustion heating systems do. In the winter, they transfer heat absorbed from the outside air to the indoor space. In the summer a reversing valve, near the compressor, can change the direction of the refrigerant flow and provide cooling. These heat pumps are a great option to replace your central AC unit. ASHP can provide efficient cooling throughout the summer and help reduce heating costs during the winter. ASHP are generally coupled with a secondary heating system that supplements heat during extreme cold conditions. This can be done with either an electric or gas backup.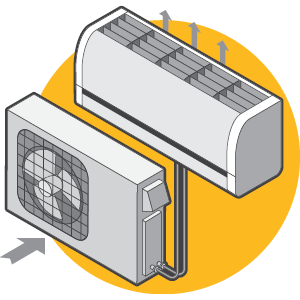 Ductless Mini-Split Heat Pumps are easier to install, quiet and provide a flexible option for heating and cooling individual rooms or smaller spaces. These heat pumps do not use ductwork, which makes them a great option for homes without ductwork, room additions, garages, sheds, etc. This also means no energy is lost through the ductwork, which can account for more than 30 percent of a home's energy use for space heating/cooling. Mini-split units consist of an indoor fixture that is connected to an outdoor condenser/compressor. These indoor units are quiet and can provide precise control over the temperature of individual rooms. If you have multiple units in your home, each unit has its own thermostat that can be regulated by individual remotes.
SCEC is committed to providing our members with cost-based energy efficient programs and services.  Take advantage of our rebates on these types of heat pumps: 
·         Air Source/Mini-Split Heat Pumps: $350/ton
·         Geothermal Heat Pumps: $500/ton