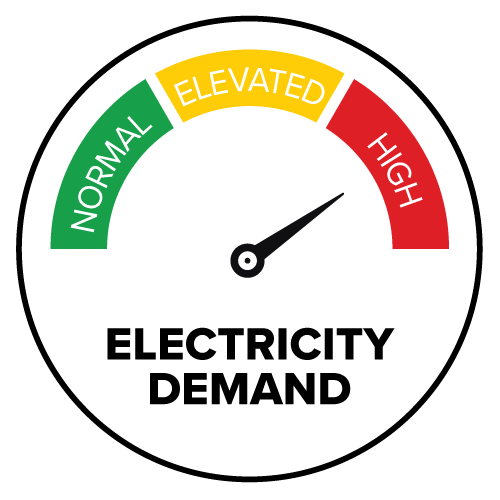 Grid reliability is at the forefront of strategic planning for utilities – from the regional Midcontinent Independent System Operator (MISO) all the way down to SCEC's system. To ensure generation resources are adequately available year-round, MISO recently changed its requirements for power providers, including our wholesale power provider Dairyland Power Cooperative. This has resulted in modifications to our load management programs starting this winter.
As of December 1, 2022, our residential "Peak Shave" water heaters will no longer be affected by summer and winter Peak Alerts/Full Load Control Days. Instead, they will be registered with MISO as a resource that can be controlled during a Max Gen Event. Max Gen Events are called when grid reliability may be at risk. These events are rare, and if called, will be communicated via scecnet.net, on our social media pages, and through direct messages. If there is not a Max Gen Event in a season, we will need to self-schedule one control event per season to meet MISO requirements.
Additionally, winter full load control events will be split into morning and evening events, December through February. To successfully reduce our electricity needs during the time of highest demands, enrolled interruptible heat/dual fuel loads will be interrupted in the mornings, beginning at 6:55 a.m., with restoral starting at 10:05 a.m. Enrolled dairy water heaters will remain on the traditional winter schedule of 4:55 p.m., with restoral beginning at 8:05 p.m. SCEC will communicate all Full Load Control Days via scecnet.net, on our social media pages, and through direct messages. There will be a maximum of seven events for the morning control group and seven events for the evening control group.
Residential "storage" water heaters and electric heat participating on our storage programs will not be affected by these changes.
Please reference the chart below to determine your program and event times:
| | |
| --- | --- |
| Device | Load Management Timeframe |
| Peak Shave Water Heaters | As need arises |
| Interruptible Heat/Dual Fuel | 6:55 a.m. - 10:05 a.m. |
| Dairy Water Heaters | 4:55 p.m. - 8:05 p.m. |
If you have any questions, reach out to our Member Services team by emailing ms@scecnet.net or by calling 715-796-7000, Option 8.
Want to be notified about load control events?
SCEC uses member email addresses to send out notifications regarding load control events. Please provide us with a current email address if you wish to be notified of these events. You can add it through SmartHub, email your information to ms@scecnet.net, or call our office at 715-796-7000, Option 8.