Are you an SCEC member who lives in one of  the highlighted areas below?
Are you interested in becoming more actively involved in the governance of YOUR co-op?
Are you comfortable representing and communicating with your neighbors?
If you answered YES to all these questions, you should consider running for the St. Croix Electric Cooperative Board of Directors this year!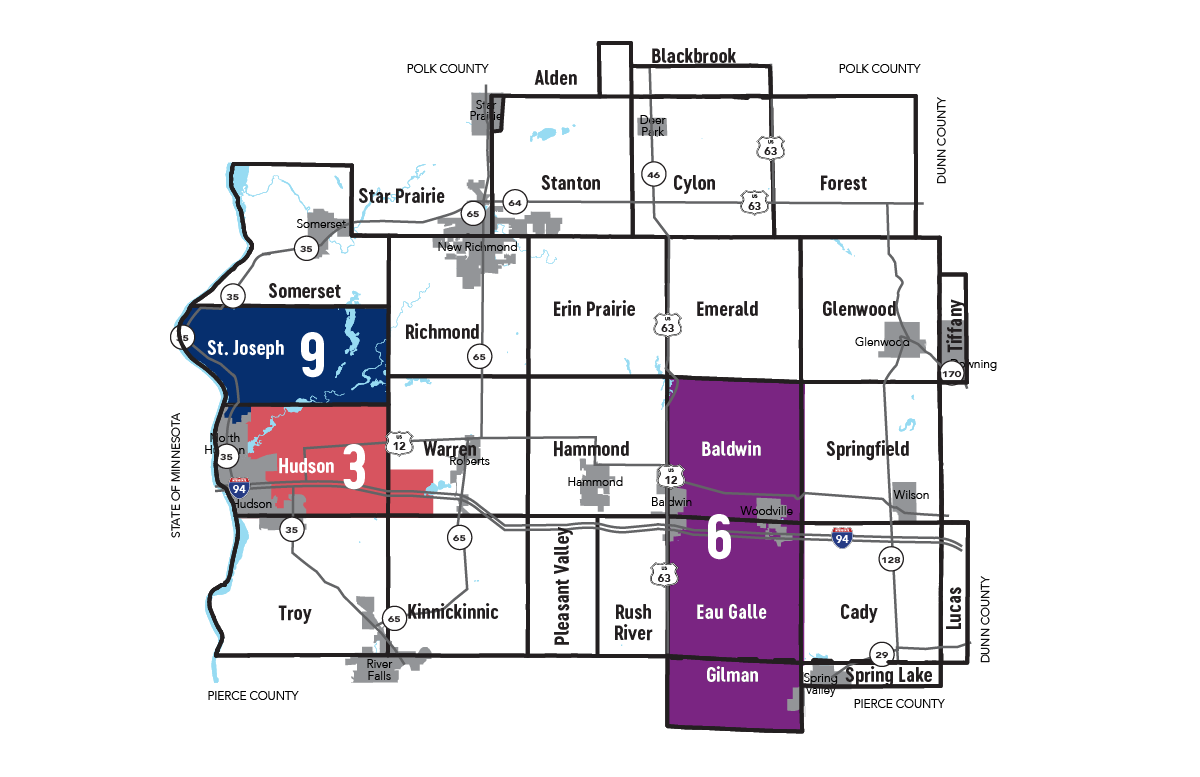 How to Become a Candidate
Members may petition for candidacy in their district by gathering not less than 10 signatures of members from that district.
Members must be able to commit to attending the monthly board meeting, which is typically scheduled during the evening on the first Monday of the month. Additionally, interested members should expect three to five days annually to serve on committees and/or attend education and training.
The deadline for submitting required paperwork to appear on the 2023 ballot is Tuesday, Feb. 21, 2023.
The primary duty of a director is to act on behalf of the entire membership in making business decisions to further the goals of the Cooperative. These decisions include establishing policies and directing the CEO in carrying out the day-to-day affairs of the Cooperative and service to members. Each member is entitled to receive equal treatment and is bound by the same service rules and requirements.
Your Cooperative is a self-supporting, sustainable business directed and controlled by its Board of Directors for the sole purpose of serving the members' needs, not making a profit.
If you are interested, please contact the Cooperative by email at scec@scecnet.net or by phone at 715-796-7000. Interested members will be required to visit our office to pick up a packet and attend a brief informational meeting.
More information about the St. Croix Electric Cooperative Board of Directors can be found online at scecnet.net/board.
Qualifications of directors include:
Member (name on account) and bona fide resident in premises served by the co-op in the district she/he represents OR when a membership is held by joint tenants, tenants in common, a partnership, or a corporation, one of the joint tenants, tenants in common, partners, or officers, but not more than one, may be elected a director, provided, however, that such person shall not be eligible to become or remain a director or hold a position of trust in the Cooperative unless all the joint tenants, tenants in common, partners, or officers meet the qualifications.
Not employed or hold financial interest in a competing enterprise or business selling electric energy or supplies to the co-op.
Not a full-time employee of the co-op at any time in the past 5 years or in default of any obligation owed to the co-op.
Have not pursued claim or litigation against the co-op in the past 5 years.
Have not been convicted of a felony in 5 years.
Have no close relative in a regular part-time or full-time position at the co-op.